Unlock the power of your money with HighMarq Savings.
At 4.50% APY, you can watch your savings grow at an impressive rate. Make your money work harder for you with an online savings account that offers some of the best savings APY: HighMarq Savings.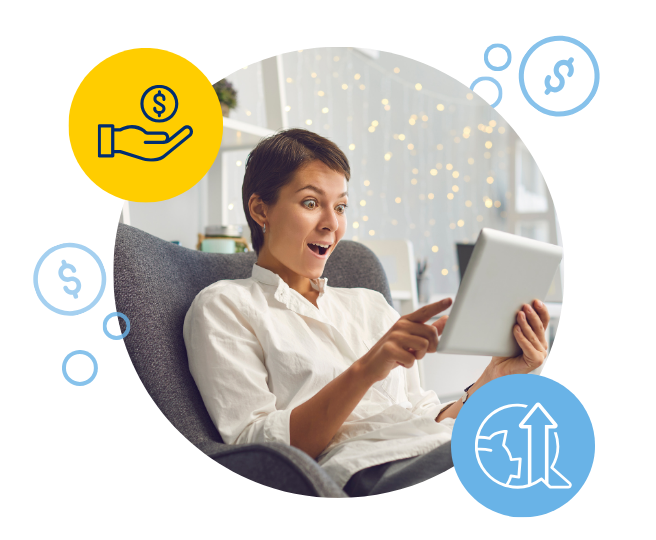 Freedom and Flexibility
Discover the highest APY for your savings.
No matter your savings goals, Quorum Federal Credit Union offers one of the top online savings accounts that allows you to maximize your earnings without locking away your money. Enjoy the freedom to access your funds whenever you need, with no penalties for withdrawals. There is no minimum balance required to open the account, but to earn 4.50% APY, you must maintain a minimum balance of $10,000.
Quick and Easy Application
It takes less than 5 minutes to open an account online.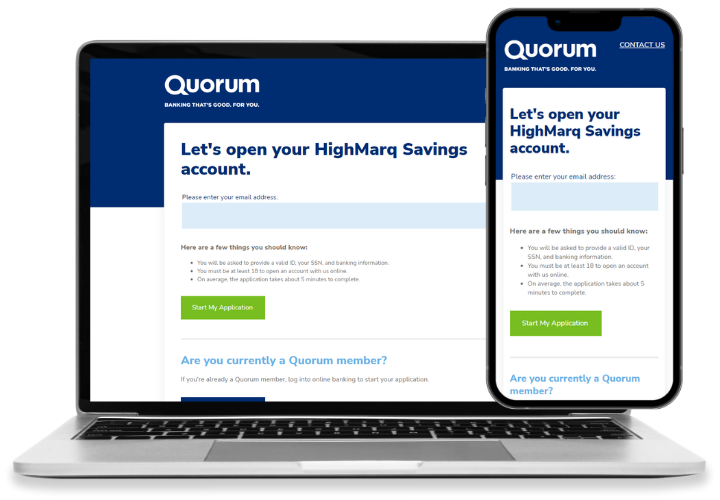 A FEW THINGS YOU SHOULD KNOW:
*Annual percentage yield (APY) in effect as of 08/09/2023. The current rate is 4.41%. APY and rate may change after account is opened and any fees could reduce earnings. HighMarq Savings Account Requirements: There is no minimum balance to open or maintain HighMarq Savings. There are no monthly fees as long as you register for and maintain e-Statements. If you choose to receive paper statements, there will be a $10 monthly fee. Once your HighMarq Savings account is opened, you can obtain a Quorum ATM Card to access cash via ATMs or link your HighMarq Savings to an existing Quorum Debit Mastercard. For more information or to link your card to your HighMarq Savings account please call (800) 874-5544. View the Truth-In-Savings and Other Account Disclosures.
Highly Rate Mobile Banking App
Manage your account anytime, anywhere with our convenient mobile banking app.
Unlock the power of your mobile device with our top-rated mobile banking app. Seamlessly bringing the convenience and reliability of an online credit union right to your fingertips, you can now bank on the go, on your own terms.
In addition to effortlessly monitoring your account activity, transferring funds with ease, and conveniently depositing checks through your mobile device, our app also lets you send money to anyone across the US with just a few taps using Zelle®.
Discover why members love our app and experience the future of banking on your mobile device today.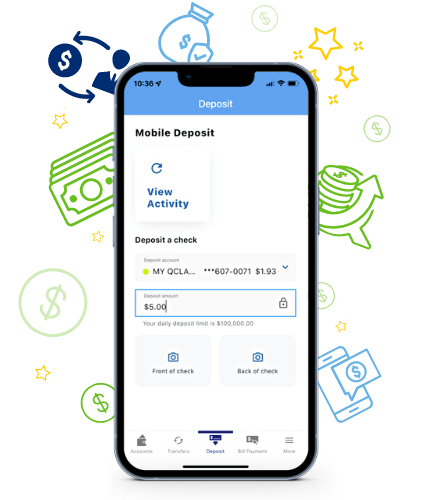 "This app is so fantastic! It makes deposits so easy as I don't have to find a storefront location anymore; I can deposit in seconds. All my banking information is a touch away. Absolutely love this app." Ictaub, Quorum Member, iOS User
"Best customer service; user-friendly website. Love the ease of transferring funds, paying bills, downloading statements. And mobile deposits—never had a problem." Cwooder, Quorum Member, iOS User
"Having a powerful banking app like this is essential because of my remote location. There is very little that I cannot accomplish with this banking app!" Ted H., Quorum Member, Android User
"A very well-designed and smooth-running app. I very rarely have issues with it and any problems are fixed quickly. It's easy to access all my accounts and I do everything I need to do right from the app." Quorum Member, Google User
Need More Reasons to Bank with Quorum?
Good for Your Wallet and Good for You
By opening a HighMarq Savings account, you not only gain access to incredible banking products but also become a valued member of Quorum. This membership is your key to exclusive market-leading offerings that are only available from Quorum. The best part? There are no additional fees or steps required because it is seamlessly integrated into our online account application.
Why should you choose Quorum? For starters, we're not your typical bank. As a member-owned, online credit union, we prioritize our members over stockholders. We believe in giving back to you. We distribute our profits through competitive rates on savings products and low interest rates on loans. As an online credit union, we also have lower overhead costs, allowing us to provide incredible savings opportunities and a seamless online banking experience, along with top-notch customer service.
We call it "Banking That's Good. For You.™"

Financial Choice
We are committed to creating banking products that caters to our members everyday needs and life goals. When we offer up choices, we make them simple by boiling them down to what's good for you—and your wallet.

Financial Experience
Our members drive our success, which is why we invest in cutting-edge online and mobile banking solutions for seamless banking experiences. When our members are satisfied, it's a win-win situation for everyone.

Financial Security
We're backed by the full faith of the U.S. Government. So, your deposits are federally insured by the National Credit Union Association (NCUA) up to $250,000.

Financial Empowerment
We invest in tools and resources, like our Learning Hub and budgeting calculators, to help our members make confident financial decisions at every life stage.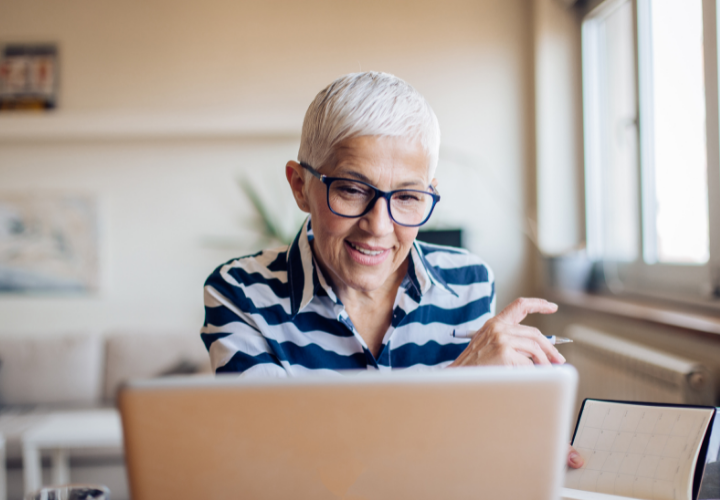 Easy 5-Minute Online Application
Ready to Open a HighMarq Savings Account?
Join over 80,000 members who chose to save with Quorum.