Enjoy High Yields (and Low Risk) with a Term Savings Account
Get the best of both worlds with a Quorum Term Savings Account (similar to CDs). Earn up to 5.50% APY* without worrying about how market changes may affect your rate (because they won't).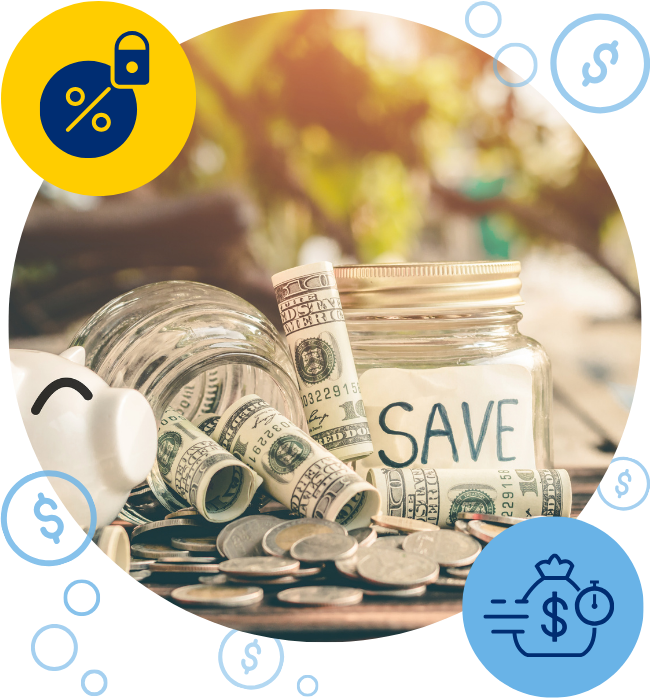 Choose the Terms and Rates That Are Good For You
Like bank CDs (Certificate of Deposits), term savings accounts or share certificates are low-risk accounts that provide you with the opportunity to earn higher interest rates over a specific duration and allows you to watch your money grow at a steady rate.
PRO SAVER TIP: To earn even more in interest, open any of our term accounts (share certificates) with at least $100,000 and you'll earn an additional 0.10% APY on your savings.
5.50% APY* (5.37% APR)
**NEW MONEY ONLY. Minimum balance to open and earn APY: $1,000. Earn 5.60% APY (5.36% APR) for balances $100,000 and up.
5.50% APY* (5.37% APR)
Minimum balance to open and earn APY: $1,000.00. Earn 5.60% APY (5.36% APR) for balances $100,000 and up.
*Annual percentage yield (APY) and rate are in effect as of 10/24/2023. Term savings accounts are fixed-rate accounts. Dividends are compounded monthly and paid monthly. The minimum deposit and balance required to earn APY is $1,000. A penalty will be imposed if funds are withdrawn prior to maturity date. Fees could reduce earnings. Click here for more information on Early Withdrawal Penalty. Term Account deposits of $100,000 or more earn an additional 0.10% APY. Term Accounts will automatically roll over into the same term at the current rate at maturity, with the exception of the 7-Month Term Account which will automatically roll over into the 12-Month Term Account at the current rate at maturity and the 15-Month Term Account which will automatically roll over into the 18-Month Term Account at the current rate at maturity.
**7-Month Term Account is for NEW MONEY only or funds that have been on deposit with Quorum for two weeks or less.
High-Yield and Stable
Pay Yourself First
Our Term Savings Accounts or Share Certificates (similar to CDs) can help you reach your financial goals and maximize your earnings with high-yield, fixed rates. The best part is, once you open one of our term accounts, all you have to do is sit back, relax, and watch your money grow.
Your money will earn a steady APY and you won't have to worry about your rate changing during the course of your term, no matter what happens in the market. You can open as many accounts as you want, so you don't have to choose between short- or long-term options. You can do both!
Quick and Easy Online Application
It Takes Less Than 5 Minutes to Open an Account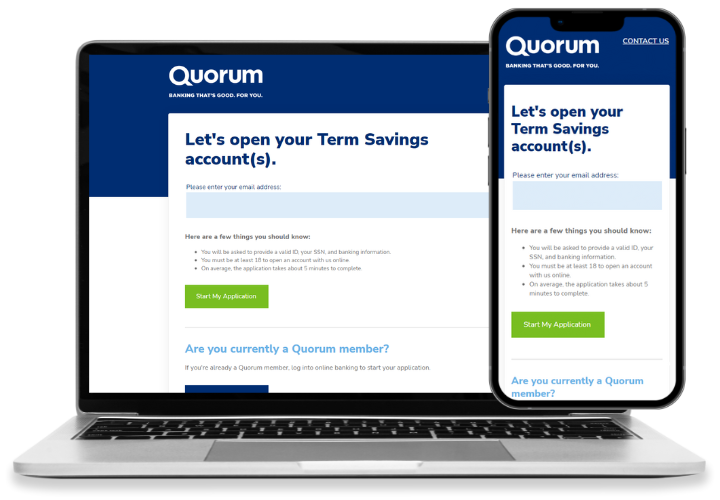 Highly Rated by Bankrate
Bankrate Thinks We're the Best.
Quorum was named The Best Credit Union by Bankrate in their 2023 Awards, citing our above-average yields on savings accounts and term accounts,
access to more than 90,000 fee-free ATMs, and easy online application process.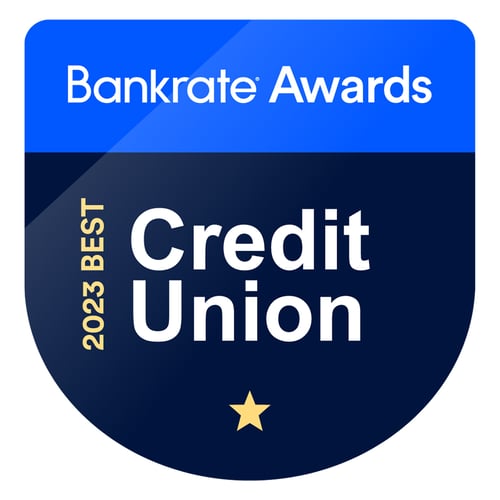 Need More Reasons to Bank with Quorum?
Over 60,000 Members Continue to Put Their Faith in Quorum
By opening a Quorum Term Savings account, you not only gain access to incredible banking products but also become a valued member of Quorum. This membership is your key to exclusive market-leading offerings that are only available from Quorum. The best part? There are no additional fees or steps required because it is seamlessly integrated into our online account application
Why should you choose Quorum? For starters, we're not your typical bank. As a member-owned, online credit union, we prioritize our members over stockholders. We believe in giving back to you. We distribute our profits through competitive rates on savings products and low interest rates on loans. As an online credit union, we also have lower overhead costs, allowing us to provide incredible savings opportunities and a seamless online banking experience, along with top-notch customer service.
We call it "Banking That's Good. For You.™"

Financial Choice
We are committed to creating banking products that caters to our members everyday needs and life goals. When we offer up choices, we make them simple by boiling them down to what's good for you—and your wallet.

Financial Empowerment
We invest in tools and resources, like our Learning Hub and budgeting calculators, to help our members make confident financial decisions at every life stage.

Financial Security
We're backed by the full faith of the U.S. Government. So, your deposits are federally insured by the National Credit Union Association (NCUA) up to $250,000.

Financial Experience
Our members drive our success, which is why we invest in cutting-edge online and mobile banking solutions for seamless banking experiences. When our members are satisfied, it's a win-win situation for everyone.